CEDAW Advocacy Training Module for Positive Women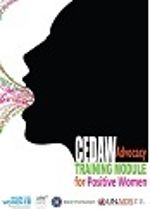 ---
Objectives
The training module serves as a guide for implementing a workshop that aims to build the capacity of HIV-positive women's national networks with skills and strategic information to enable them to effectively address HIV response gaps and to meet universal access targets. It will enable women to use a human rights framework to advocate for their unique needs in access HIV services and to shape policies, guidelines and plans. The training focuses on the HIV epidemic in the context of the ASEAN region.
Content
Chapter 1: Introduction
Chapter 2: CEDAW National Training Workshop
Chapter 3: Facilitators' Guide
Know your rights - CEDAW and human rights
Policy advocacy
Developing a rights-based advocacy campaign
Audience
This training module is designed for HIV-positive women's national networks and women living with HIV/AIDS.